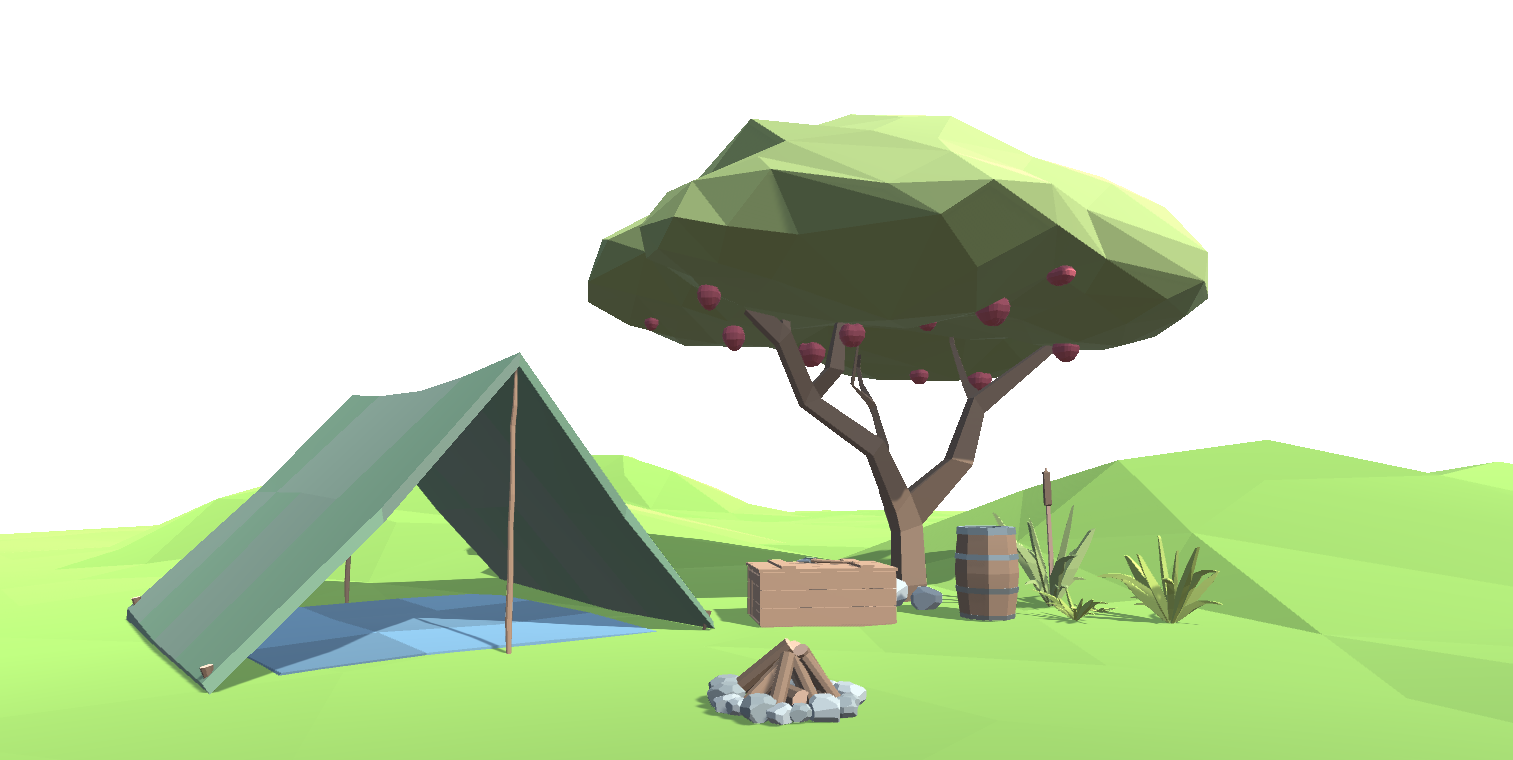 Ultimate Low Poly Survival
A downloadable asset pack
Ultimate Low Poly Survival
Contains 171 low poly stylized survival props and environmental assets. Everything you need to build your own survival game!
Each color can be customized as you want (read more about custom colorschemes).
With custom shaders, optimized for low poly models!
Demoscene
This pack includes a demoscene that contains the following additional content:
Fire Animation Script (C#)
Animated Low Poly Water Shader
Waving Trees/Foliage Shader
Simple animation controllers for all animated objects
Particle Systems (Fire & Dust)
Models
This pack contains the following models:
Bear Trap (animated)
Boat Engine (animated)
Boat Engine (broken)
Boat Engine (without propeller)
Wood Shelter(x4)
Log Spike
Log Spike Wall (x2)
Plank (x5)
Rock (x3)
Skull (x3)
Table
Tent
Propeller (normal & broken)
Inflatable Boat (animated)
Wooden Raft
Wooden Boat
Wooden Boat Wreck
Oar (x2)
Lighter (animated)
Matchbox (animated)
Match
Orange
Apple & Birch Tree
Bushes (x8)
Knife
Machete
Hammer
Shovel
Axe
Fire Axe
Pickaxe
Spear (x3)
Duct Tape
First Aid Kit
Battery
Flashlight
Cassette & Cassette Player
Campfire
Campfire (with cooking stand)
Meat (Raw & Cooked)
Bones (x2)
Signal Rocket (animated)
Rifle (with and without scope)
Scope
Bullet (x2)
Bullet Package
Anvil
Bread
Apple
Banner
Cloths (x3)
Compass
Backpack
Barrel
Bucket (x2)
Jerry Can
Canteen Bottle
Water Bottle
Crate (without lid, closed, lid, open)
Ladder
Log
Wood Stick (x3)
Log Wall (x5)
Log Cabin
Tin (x3)
Torch
Watchtower (x3)
Colorschemes
We always use Colorscheme-Textures instead of vertex colors, to make it easy to recolor our assets. While this pack includes a pre-made colorscheme, you can always modify them or create your own ones. Read more about custom color schemes.
About Us
Broken Vector develops software, games and game assets. We specialized on Low Poly Stylized game assets. Read more about our assets
Our other assets
Our assets on the Unity AssetStore
About Us
Impressum | Imprint

You might want to check out our other asset packs:
Featured Assets

Free Low Poly Pack | Low Poly Tree Pack | Low Poly Rock Pack
Download
This asset pack is currently unavailable
Download demo